PRO—VITAL 10
Nikolai's Dilemma

One week in the life of Daria, Personazh, 2nd issue, Riso, printed by Sputnikat


Daria & her pet snake, A4 screenprint, Personazh
The story starts the moment the tiger escapes from the zoo. Everyone is thrilled, not in a good way though. And an intrepid TV reporter Daria arrives at the spot to investigate. It's St. Petersburg, Russia, our days. The disappearance of the tiger was actually the real thing, that has happend around the time we started to work on this story.


There were seven of us. The other artists working at the same issue of
Personazh
were
Katya Dorokhina
,
William Goldsmith
,
Mikkel Sommer
,
Martoz
,
Andrey Petranin
and
Anton Mariinsky
. Working across Russia, Denmark, United Kingdom and Italy we were drawing a week out of Daria's life day by day. The week was divided between the artists, so each one of us was in charge of one day.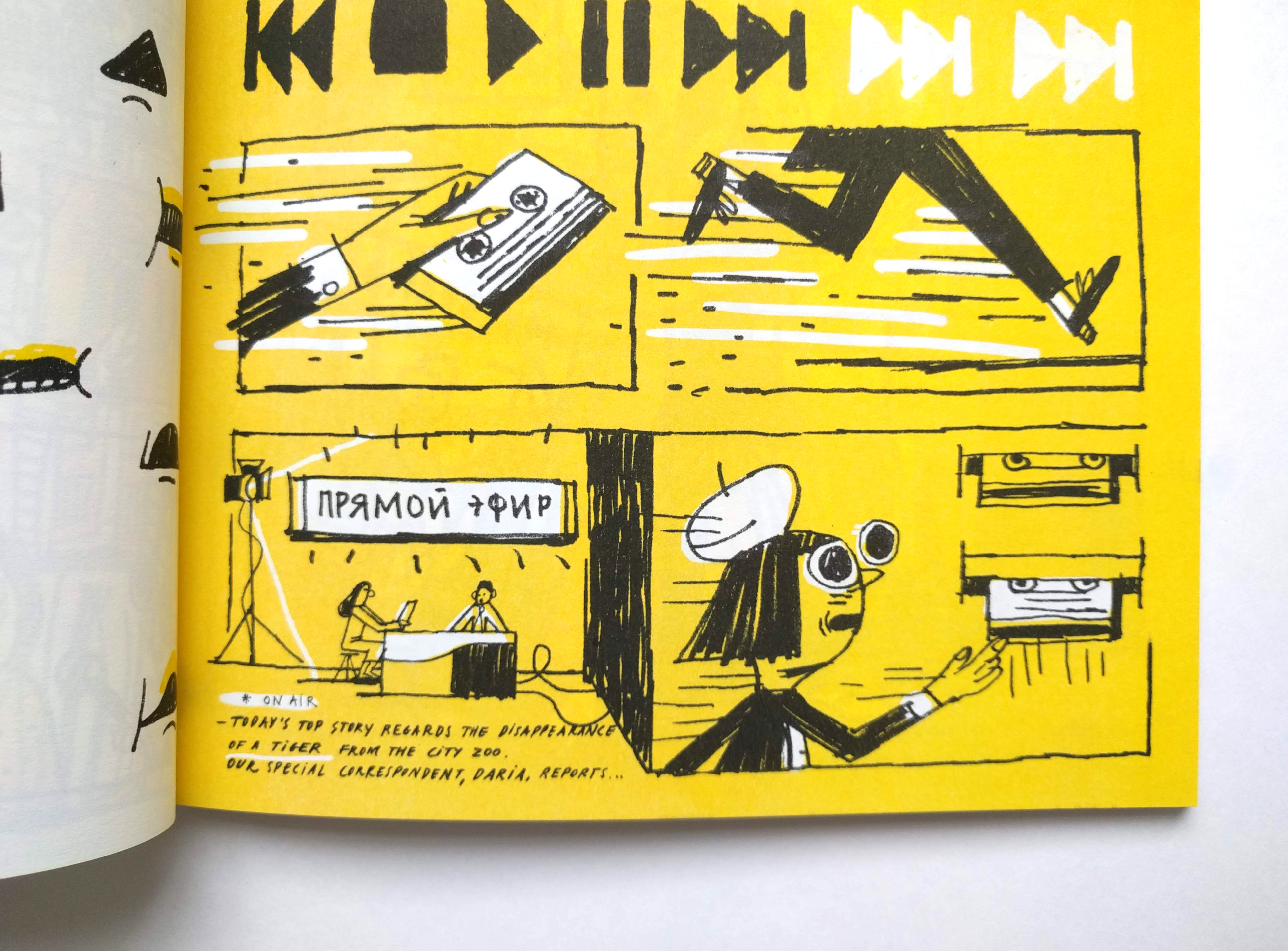 One week in the life of Daria, Personazh, 2nd issue, Riso, printed by Sputnikat



The will to incorporate Murzilka into this story was tempting from the start. Murzilka was a very famous Russian character for kids. Several generations grew up reading comics about the adventures of Murzilka and his friends. And he was a reporter, like Daria.

When you see Daria wearing the pajama, just pay attention. In fact it's a onesie kigurumi pajama of Murzilka. This's the way to relax after a long day in search of the tiger.

But what about Nikolay with his dilemma? Well, he was in the first issue of Personazh actually. Our test drive issue.
Personazh, 2nd issue, cover by Martoz, Riso, printed by
Sputnikat
One week in the life of Nikolai, Personazh, 1st issue, Riso, printed by
Sputnikat
Now Nikolai, an introspective handyman from Moscow, with his cactus pet, receiving a call and mundanely drives his van to work only to discover it's a strip club. There's a massive clog in the restroom. And girls, yes, them too.
Personazh
became a new concept for the comics anthology format. Seven artists from different countries come together to design a single character. Each artist is telling the tale of one day, Monday to Sunday.
Nikolai's story was told by
Andrey Petranin
, Irina Troitskaya,
Lika Nussli
,
Evgenia Barinova
,
Jeroen Funke
,
Arina Shabanova
and
Christopher Rainbow
.
Personazh, 1st issue, Riso, printed by
Sputnikat